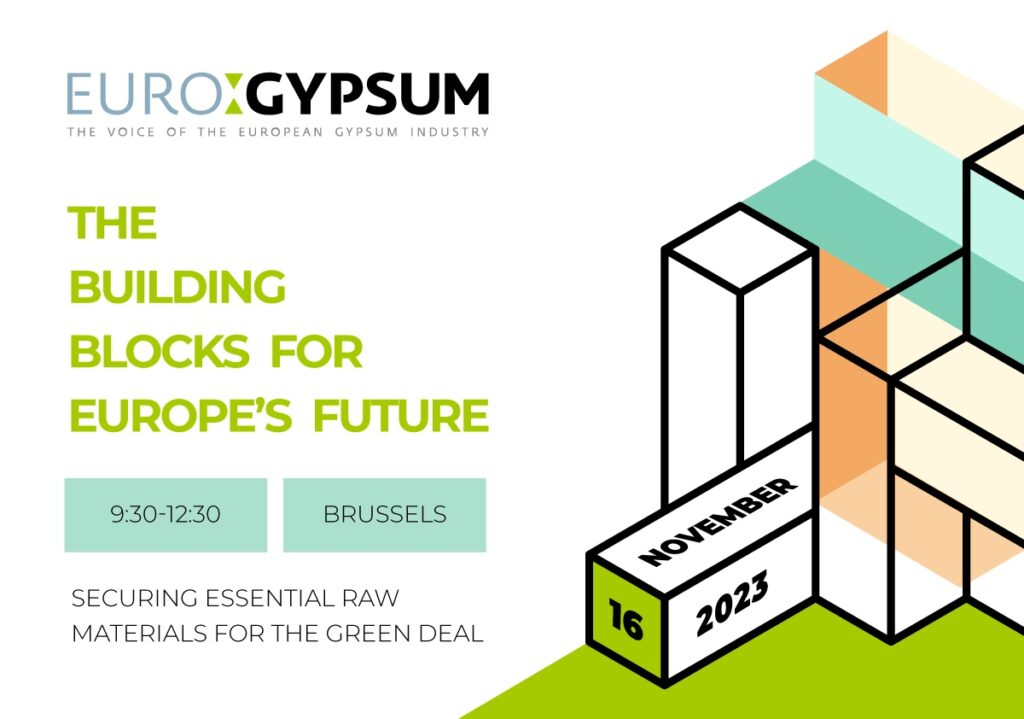 As part of the EU Raw Materials Week, Eurogypsum is hosting an event dedicated to the secured supply of raw materials essential to the European Green Deal, which will take place in Brussels on 16 November 2023, from 9.30 to 12.30 hrs.

Achieving the objectives set by the European institutions within the Green Deal and towards the climate neutrality objective will not only require a major energy switch. The credibility of Europe's commitment to climate neutrality will also depend on our ability to decarbonise and renovate our building stock and to build the necessary infrastructure that allows a low-carbon future.

The aim of this event is to look into today's supplies of materials that are essential for the green transition, the opportunities and challenges facing Europe over the coming decades, as well as how policymakers, the raw materials industry and other stakeholders can contribute to a safe and sustainable supply of essential raw materials.

The invited speakers from EU and national decision-making circles, industry and other stakeholders, will discuss this topic in the context of EU raw material policies, such as the proposed Critical Raw Materials Act and other relevant legislation.

The practical example of gypsum will be presented, as part of the solution to a decarbonised building stock, supporting the EU Renovation Wave.

More details on the programme and registration will be shared soon. Stay tuned!

We are looking forward to welcoming you in Brussels in November.